Eclipse began in the 1890s when brothers Sam and Max Weisglass emigrated their spring manufacturing business from a small town outside of Ukraine to New York City.
In 1903, what began as Weisglass Spring Company, with hard work and dedication, evolved into U.S. Cabinet and Bed Company.
Two years later, Eclipse Sleep Products was founded and began to grow tremendously, eventually becoming one of the largest bedding companies on the east coast.
Times have changed and so has Eclipse. Today, with 21 factories servicing 6 continents, Eclipse still honors the traditions in which it was founded upon. Eclipse combines its old world traditions with innovative technologies of tomorrow to improve the consumer's sleep experience.
Bedding Technology
Eclipse International takes pride in the development and implementation of new bedding technologies. Our team of researchers work each and every day to develop new and creative ways to provide you with the best sleep possible. We are proud to offer our customers exclusive, patented, and proven bedding technology.
ALLERGY FREE DESIGN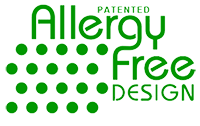 Eclipse's patented Allergy Free Design is a "two fold" system that virtually eliminates the problem of dust mites and other micro-organisms. The design uses specific, exclusive fabrics and materials that inhibit these creatures from entering your bed while still allowing air to pass through to the inner components of the mattress. In addition, Eclipse implements a patented sealing process which effectively prevents dust mites and other miro-organisms from entering the mattress at the seams.
LIFE EDGE PERIMETER SUPPORT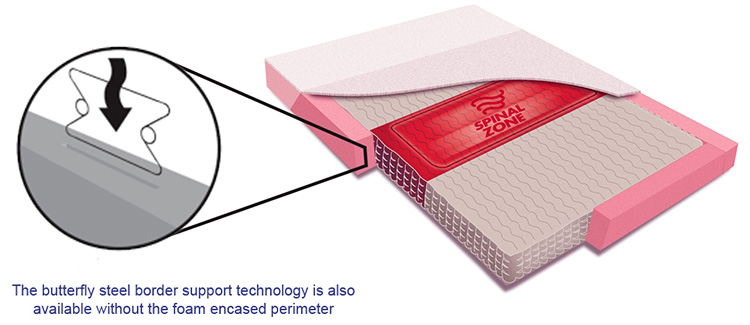 Eclipse's Patented Lifedge Perimeter Support technology provides greater edge support around the entire mattress perimeter for ultimate sleep comfort and quality. Lifedge inserts steel butterfly spring supports into our foam encased rail border. This extends the life of the mattress by eliminating soft, sagging edges while also increasing the sleeping surface with its edge to edge protection system.
SPINAL ZONE SLEEP SYSTEM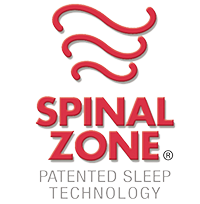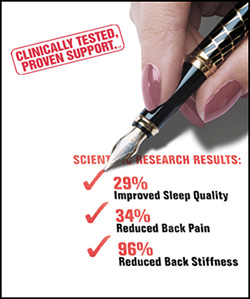 Eclipse's Patented Spinal Zone Sleep System is clinically proven to reduce back pain for a healthier night's sleep. Traditional innersprings are framed with the use of a border rod. Spinal Zone uses an additional, slightly lighter border rod which attaches to the center third section of the spring unit. This exclusive technology reinforces the center-third section of the mattress: providing enhanced back support. The Patented Spinal Zone Sleep System works in conjunction with our Patented Zoned Quilt Support System. Together, the two technologies provide the ultimate sleep experience while still maintaining a superior level of comfort.
Two Clinical Studies
Performed by the Director of Human Performance Conducted at University of West Virginia
* Adding body support
* Relieving back pain
* Preserving mattress life
"The Spinal Zone mattress significantly reduces the time necessary to relieve stiffness after waking within two weeks of use and the improvement in back stiffness is maintained after one year of sleeping on the Spinal Zone."
Zoned Quilt Support System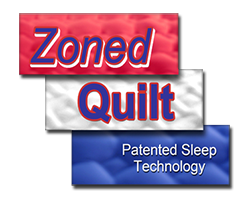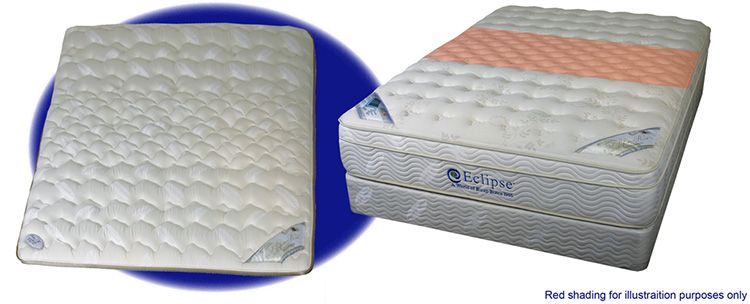 The Patented Zoned Quilt Support System pre-compresses the cushioning materials in the center third section of the sleep system to eliminate mattress breakdown and strengthen the section in which body impressions most commonly occur. Back pain, stiffness, and discomfort are most commonly associated with the center third or lumbar region of the mattress. Eclipse's Zoned Quilt technology implements an additional layer of visco-elastic memory foam within the fortitfied quilt region – providing extra pressure point relief together with supreme comfort and support.